When it comes to railing installation on your deck, make sure to choose the most practical and aesthetically pleasing option. Usually the question is: "Glass or wood?" – that`s one of the dilemmas that may appear when finalizing the design of the project. Despite being huge fans of wood, we find some advantages of using glass railings for decks very persuasive.
So, here are 5 reasons why you should consider installing glass railings in your house.
1. A great view
Unobstructed view is one of the primary pros of having a glass railing. The last thing you want to do is lose an opportunity to enjoy the beauty of the city or nature on your deck. Transparent glass railings allow you to take full advantage of the stunning view around without sacrificing your safety. They don`t block natural sunlight and create a feeling of open space. However, if privacy is a priority for you, consider blurring or frosting the surface of the glass.
2. Safety
Some people may have a concern that glass is a very fragile material and is not safe for such types of constructions as decks. However, a majority of glass railing options are made from tempered glass, which is much stronger than the regular one. There is no need to worry about the glass breaking from an accidental bump or temperature fluctuation. Even more, as opposed to wooden railings, the glass ones are rot and water-resistant, which can prevent unexpected injuries.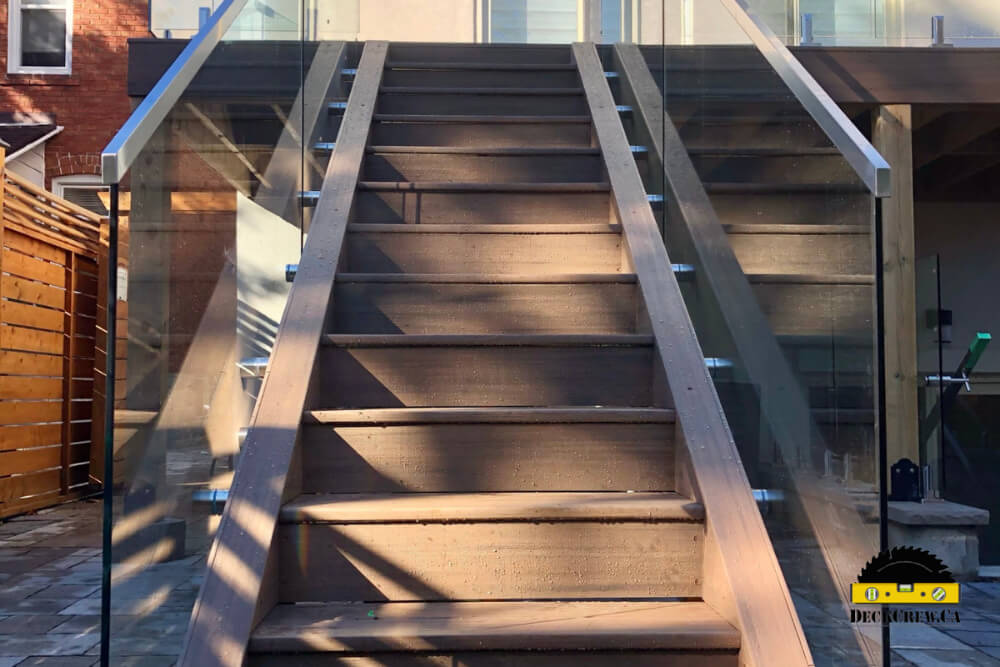 Need Help
Feel free to ask us any question. If you already know what do you want to have done, try to give us as much information as possible.
3. Durability
As we already mentioned, glass railings are usually made from a strong material, which makes them safe and durable. They will not corrode, crack, rot or rust regardless of any external factors. The tempered glass panels will not need repair or replacement for a surprisingly long time.
However, the quality of the material is the most important factor that defines the durability of glass railings. You should pay attention to the kind of glass and the manufacturer of the glass railings that you decide to purchase. A high-quality product may be the greatest investment for your home.
4. Easy maintenance
Unlike wooden railings, glass railing structures don`t require regular seasonal maintenance. You don`t have to paint or stain them, to replace rotten or cracked parts. Simply cleaning them with soap and water will make glass look like new. Even though his process is more repetitive, yet it`s also time-efficient and cost-effective.
5. Unique design
Glass railing systems are highly customizable, allowing every project to be uniquely designed. You can choose from various styles of frames and different colours of glass.
The panels can be transparent, tinted, blurred or textured, depending on the need and preference of customers. They are also available in different sizes and shapes. This variety allows you to create a completely customizable design that reflects personal aesthetical feelings.