There is plenty to choose from when it comes to decking materials. Which one will bring the best results? That depends mostly on personal expectations and preferences.
Having a deck is not only a luxury but an investment. To get the best results that will make you happy for decades requires doing some research ahead of time. Checking out the recent trends in the decking industry can be very insightful. 
Read this article to see what decking materials were the most popular in 2022.  Review the chart of pros and cons and read the detailed description below.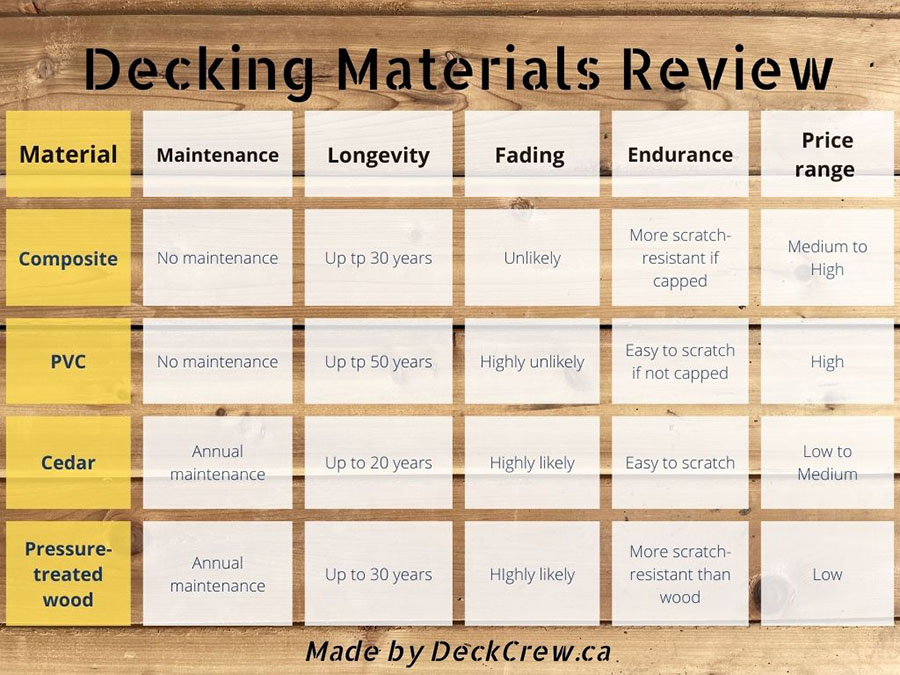 Composite decking
Composite boards are made of wood fibre mixed with plastic parts. The plastic component enhances the qualities of wood, creating a natural-looking and long-lasting material.
Maintenance
Composite decking doesn't rot, split or crack. It doesn't require any annual maintenance other than washing. It also doesn't need to be sanded or stained in order to improve its durability or visual appearance. The rate of fading is low.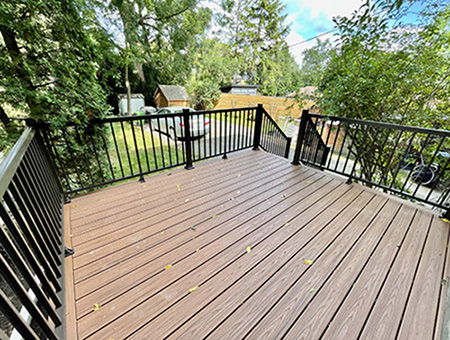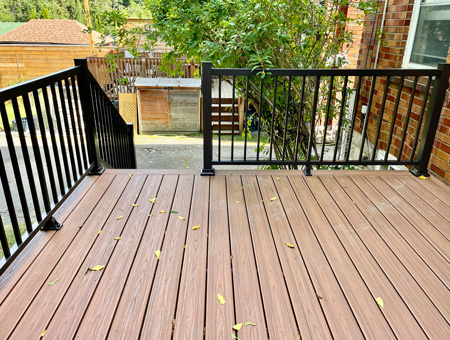 Longevity
The longevity of composite decks is high – up to 30 years. The qualities of composite matter make it one of the best materials for outdoor use in the humid continental Toronto climate. It doesn't shrink or expand due to weather changes as much as pure wood. The plastic component prevents boards from moulding and rotting. It also doesn't absorb moisture as much as wooden decking, so the chances of it cracking or warping are close to a minimum. 
Variety
Composite boards are available in a variety of colours – from the most wood-looking to dark grey or bright red. This allows you to create a unique design for the outdoor space. However, if you change a preference over time, painting a composite deck can get quite complicated. We recommend consulting with a professional painter before trying to paint a composite deck. 
There is a type of composite decking that undergoes a 4-side capping process that makes it more scratch-resistant and increases the longevity of the structure. The better the quality of the boards, the lesser the chances of getting them scratched. Compared to wood, the aging of composite becomes visible later in use.
Environmental Effect
Composite is made of recycled plastic and basically, "recycled" lumber. In other words, the wood particles are harvested from lumber chips that would otherwise go to waste. This way, using composite material contributes to effective plastic recycling and doesn't increase the volume of deforestation.
Composite decking is one of the leaders in the market of decking materials and there is a list of reasons for that. Composite is also quite a pricy option. The upfront price of a composite deck is higher compared to some alternatives. However, there is no cost associated with composite deck maintenance, which makes it more cost-effective in the long run. 
PVC decking
PVC is a type of decking material that is made exclusively from plastic. It doesn't contain any wood or other organic matter. This brings up a list of benefits, as well as some disadvantages.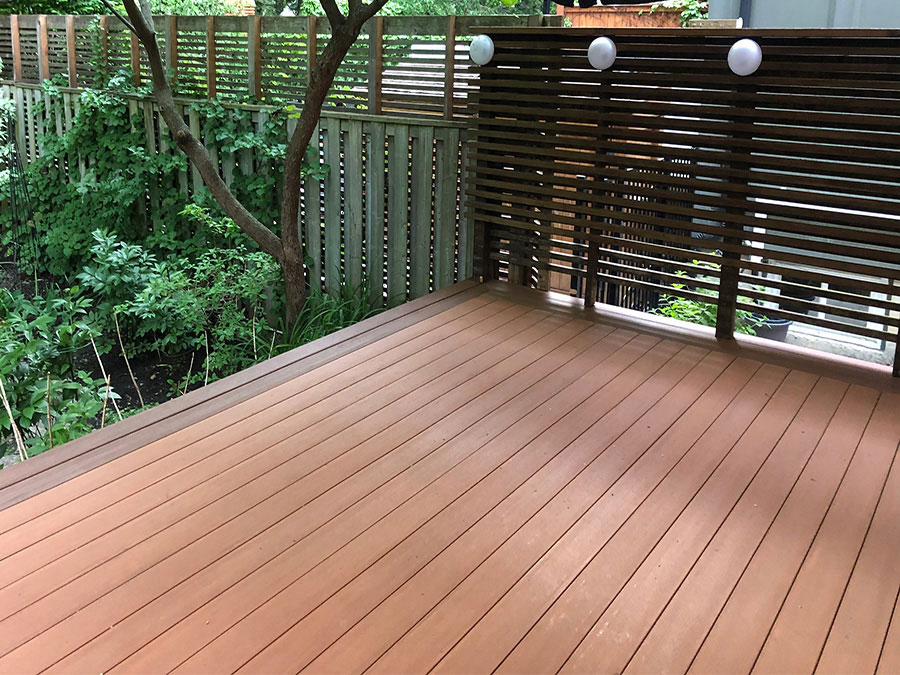 Maintenance
PVC deck is rot- and mould-resistant structure. It will never get infected with insects, which can happen to wooden builds. It also doesn't require painting, staining or other regular maintenance. PVC is very easy to wash since even uncapped boards are more stain-resistant than most of the other decking materials. PVC decking is a good choice for families with small kids, as it doesn't make splinters and doesn't hold on to spills and stains.
Longevity
Since PVC boards don't absorb moisture, they have the highest longevity in high-humidity conditions. On the other hand, plastic tends to expand and contract depending on temperature. This may lead to cracking and splitting during extreme weather changes. Experienced professionals can minimize the risk of this happening when performing the installation. It's recommended that PVC decks be installed by knowledgeable masters. On average, the longevity of PVC decking lasts up to 50 years. 
Variety
The variety of colours of PVC boards is even more diverse than the composite ones. To add to that, they are also the most fade-resistant. Some manufacturers provide a warranty for fading for 50 (!) years. The higher the quality (and price) of a PVC board, the longer the warranty. 
PVC planks can come in brown colours resembling wood. However, under close inspection, the smooth matte capping of PVC decking will reveal its nature. PVC decking doesn't imitate "natural-looking" wooden decks. Having said that, the grain of the material creates a beautiful finish that makes the decking a high-end project. A PVC deck, if built by professionals, is an incredibly aesthetic option. 
The synthetic material of PVC is softer, compared to wood or composite. This makes it easier to scratch or damage. However, if the budget allows, you can choose a capped polymer decking that has an extra protective layer. The price of this material is higher, but it makes it pretty much scratch-resistant.  
Environmental Effect
At first sight, using plastic to build a deck doesn't seem to be the most eco-friendly option. Yet, a lot of manufacturers use recycled materials when producing PVC boards. They also provide recycling programs for the demolition of old decks. Ensuring that you work with an environmentally friendly manufacturer is the way to reduce potentially harmful outcomes in plastic deck construction. 
The price of PVC decking is the highest on the market. The quality of planks and capping can shift the price range a little, but in general, PVC is a high-end option. 
Cedar
Cedar is traditionally a leader in all decking materials. This beautiful aromatic wood is naturally rot- and decay-resistant. It doesn't need to be chemically treated, it repels insects and withstands moisture better than other non-treated woods. However, since this material is all-organic, it requires a lot of regular annual maintenance.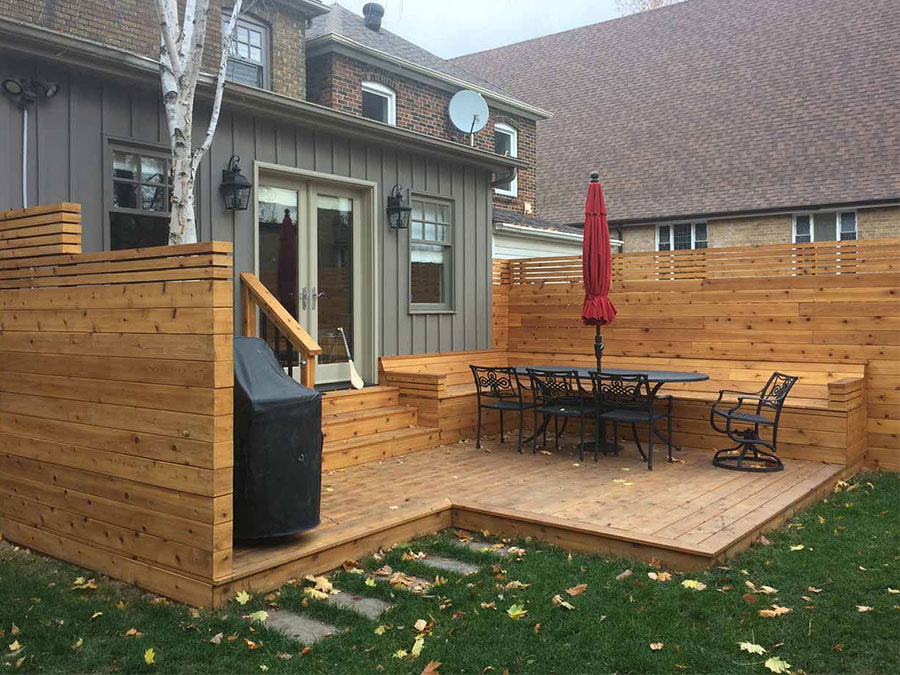 Maintenance
Cedar decking has to be power-washed, sanded, stained and sealed before every winter. This process might take a couple of days, so be ready to get busy with housework. If you don't find it relaxing and meditative, you might need to consider some alternatives. Hiring a professional can be a solution, but prepare to allocate an additional budget for the service. Annual maintenance is key to preventing a cedar deck from drying out, splitting and warping. 
Longevity
If regular maintenance is followed thoroughly, the cedar deck is more durable than other non-treated woods. The average longevity of this decking is 15-25 years. It endures weather changes and moisture quite well if sealed. To avoid cracking and splitting, cedar decking has to dry out for some time after installation and to be stained once completely dry. 
Variety
There is a wide range of paints and stains that work well with cedar wood. The process of painting is relatively simple and usually doesn't involve any complications. You can also highlight the beauty of the natural colour of the wood by sanding it and applying a transparent stain. This will create a smooth finish and enhance the grain of the lumber. 
If you decide to go with that natural rustic look of cedar deck and apply only the sealer, expect some fading over time. When fading, cedar turns ash-grey which some people find quite aesthetic. In any case, you can always apply a solid stain or paint it to a desirable shade. 
Cedar is a soft kind of wood, which means that it gets scratched easily. This is probably the biggest disadvantage of cedar decking. That's something to keep in mind if you have pets with paws. 
Environmental Effect
Cedar decking is probably the most "green" option of all decking materials. It doesn't require any chemical treatment that would be harmful to the environment. Wood is biodegradable so there is no problem disposing of it. Sometimes it can even be reused for other construction needs. If the lumber was gathered from sustainably managed forests, it doesn't contribute to deforestation. The Wood Database marked cedar lumber as "the species of least concern". 
The price of cedar decking is in the middle range of the market. It's more expensive than pressure-treated structures but more affordable than the majority of alternatives.   
Pressure-treated wood
Pressure-treated lumber is made by treating wood boards with certain chemicals under high pressure. It makes the material resistant to rotting and insect infestations and drastically increases its durability. Compared to untreated wooden decks, the longevity of pressure-treated decking can last up to 10 years longer, so around 30 years on average.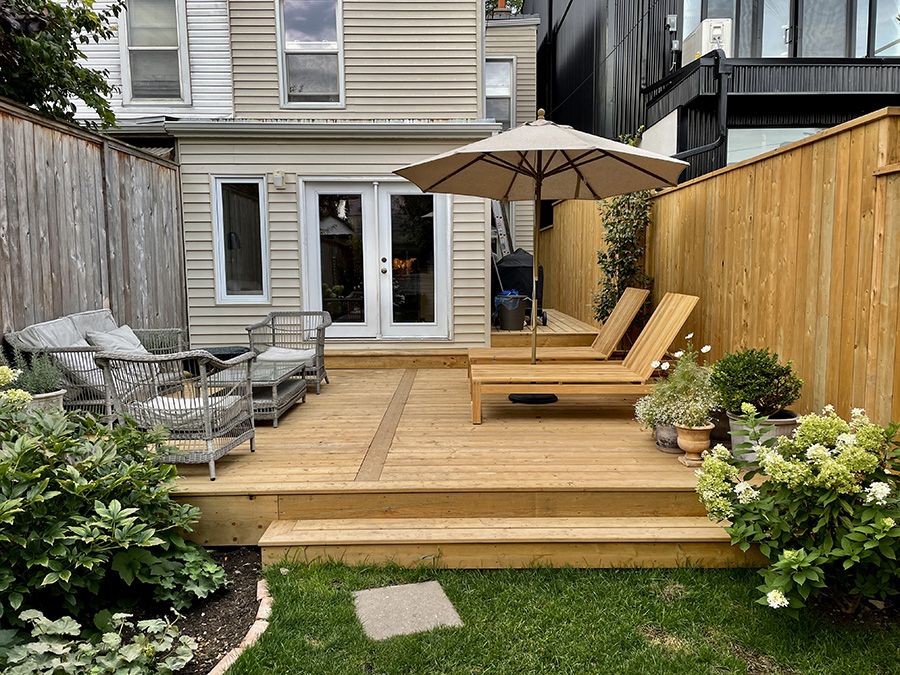 Maintenance
Pressure-treated wood is a common option for outdoor ground-level builts. Even though it`s less susceptible to weather changes than natural lumber, there is a certain level of maintenance required. This lumber is prone to splitting and cracking unless a protective sealer is applied annually. The process is quite simple – powerwash and reseal. But to successfully prevent the shrinking and cracking of a pressure-treated deck you have to do this every year. 
Longevity
If you made up your mind and decided on wooden decking, pressure-treated boards will stay in good shape the longest. Pressure-treated lumber is recommended for ground-level decks since it can withstand continuous exposure to moisture better than other decking materials. Some manufacturers provide material that is double-coated specifically for that reason. Any other type of wood cannot offer the same durability and rot resistance as the one that's treated with preservatives. 
However, if comparing the longevity of pressure-treated decking to composite or PVC, the last ones will definitely stay intact for much longer. Also, pressure-treated decks usually will need some level of repair sooner than non-organic structures. 
Variety
The most common wood used for creating pressure-treated material is pine, sometimes spruce or fir. Despite coating, the boards look just like regular non-treated wood. You can leave it like that and have an all-natural look for the decking. Otherwise, there is a whole list of stains that can be used on pressure-treated lumber. 
Talk to a professional or make research online to pick the perfect colour and level of transparency for your decking. For example, at Olympic.com you can go through various shades and pick the one of your preference just in a couple of clicks. And of course, your local Home Depot can either provide the one you found online or recommend an alternative. In any case, there is plenty to choose from. 
When it comes to fading, the game rules with pressure-treated lumber are the same as with natural wood. Regular staining will minimize the level of fading. If you leave a pressure-treated deck as it is, eventually it will turn grey. Even painting is not as effective as coating pressure-treated boards with a good-quality stain. Stains for pressure-treated materials also come in various colours, so there are almost no limits to your imagination. 
Note: it is common for pressure-treated wood to turn green at the beginning of use. This is temporary and doesn't have to be dealt with. The green shade will disappear on its own after some time. 
Environmental Effect
One distinct disadvantage of pressure-treated decking is that it's not the most environmentally-friendly choice of all decking materials. In the past, the chemical mix that was used for wood coating was toxic and caused concerns for the public. Nowadays, the industry is closely regulated and hazardous chemicals such as CCA (Chromated Copper Arsenate) are no longer available for residential use. 
However, since pressure-treated decks still contain chemical preservatives, it makes sense to handle them with precaution. There are a couple of rules to follow to ensure your health is not affected in any way:
Never burn pressure-treated lumber

Do not use pressure-treated wood for indoor projects

Use protective outwear when working with the treated material (gloves, long sleeves)

Avoid direct contact of treated wood with food and water.
Read more information on how to utilize pressure-treated materials safely here.
The price range for pressure-treated wood is the most affordable on the market. If you have a relatively small budget for the decking project or plan to have a level-ground deck, this is definitely the option to consider. 
Reviewing the pros and cons of the most common decking materials is the way to find the best fit for your lifestyle and preferences. If you would like to have a personal consultation, feel free to reach out to us!