PVC is another decking material that became a strong competitor to wood and composite. The difference among the three is that PVC decking is all plastic, with no organic matter in it. Surely, there are advantages and disadvantages to this. The biggest pro – a PVC deck is almost completely maintenance-free. The biggest con – so far it`s the most expensive decking material on the market.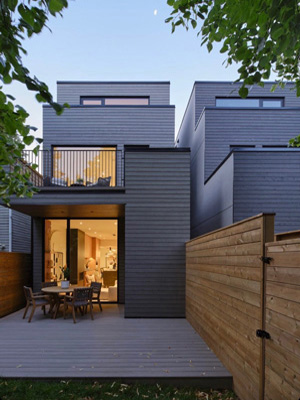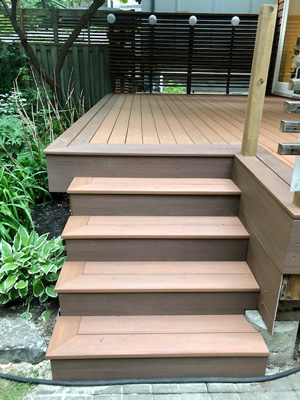 PVC decking is recyclable
Nowadays, when you hear the word "plastic" the first impression that appears in your head is probably an image of polluted ocean shores or massive garbage dumps. However, let`s not be prejudiced here. Plastic bags and plastic decks affect the environment completely differently. 
First of all, PVC is made of recycled materials (including those harmful plastic bags). This helps the industry to actually use plastic waste in a safe green way.  
Also, considering that a PVC deck has a lifespan of more than 30 years and has to be demolished and discarded professionally, it involves a full level of control over material disposal. That means that you won`t be able (and shouldn`t even consider) just dumping it in an unregulated location. 
When recycled properly, PVC decks are an environmentally friendly option. 
Read more about PVC recycling here
PVC decking is durable
Having no organic matter in it, PVC decking can withstand the most severe weather conditions. Compared to wood, PVC deck will not fade that much and doesn`t need any additional treatment to avoid cracking or splitting. It`s also moisture-resistant, so it won't shrink or expand even in very humid climate conditions. On average, PVC decks last up to 30 years. Most of the time they don't require any repairs or maintenance.
There is a general belief that mould doesn`t grow on plastic, so it will not damage your PVC deck. However, it can feed off organic matters, such as food leftovers that got stuck in between boards. In that case, a power wash will solve the problem. Read more on how to prevent mould from growing here 
The hard finish of PVC decks makes them pretty scratch-resistant. You would need to bring a lot of force to leave a mark on a plastic deck. Yet, even if some damage occurs, oftentimes buffing it off helps remove small scratches.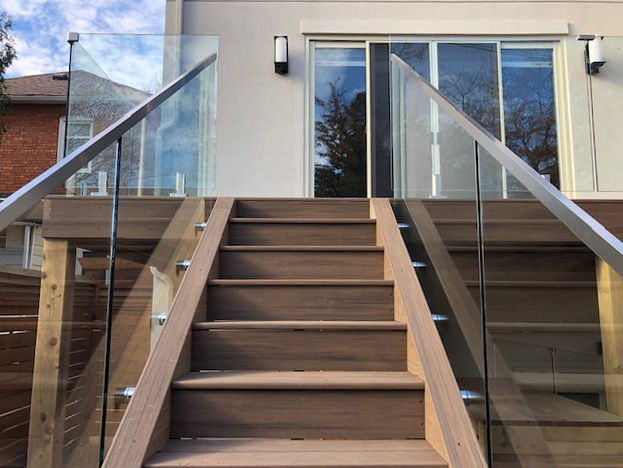 PVC decking is low-maintenance 
The high durability of PVC decks makes them very easy to maintain. You don`t have to sand, stain or polish them. They don`t fade drastically, so there is also no need to paint them. Generally speaking, there is no annual maintenance associated with PVC decks. 
Washing the deck from time to time is the only extra effort you have to put in to keep it looking brand new. Here is a tip – try sweeping all the dirt away and washing it with lukewarm water without soap first. Often this will be enough to freshen up the deck without having to deal with soap stains that require a second wash-up. However, if there are old stains that need a bit more attention, a scrub brush and soapy water will do the magic without damaging the boards. 
If you have any questions about PCV decking installation or maintenance, feel free to contact us. You can also see more examples of PVC decking that DeckCrew.ca team built on our Instagram.