Getting a composite deck in Toronto is a great way to enjoy the beauty of your house to its fullest. Composite is one of the most recommended materials for decking in the Toronto climate. Composite boards can withstand moisture and change in the seasons, don't require annual maintenance, and come in a variety of colours. 
However, there is no universal material that works for every household. Composite has some issues to consider as well. You can find complete information on the most common decking materials if click on this link. Meanwhile, let's dive into the pros and cons of composite decking.
Pro: Composite deck is durable
One of the biggest advantages of composite decks is their longevity. A composite material is capable of handling different weather conditions for years without any additional maintenance and remains in great condition. Composite decks do not require staining, painting, or any other treatment, compared to wooden builts that need regular care.
Any type of wood tends to crack and split as it dries over time. With composite, there are no worries about warping or rotting or cracking. The deck is resistant to most of the issues you would have to get fixed if having a wooden structure. 
Con: Composite deck is pricy
The price of the composite boards might be a bummer for customers choosing a material for their decks. The cost of composite lumber will be around 50-100 % higher than, for example, pressure-treated wood. The price depends on the quality of the material, of course. But who wants low quality when it comes to your own backyard? Deckcrew.ca works with the most trustworthy decking suppliers in Toronto.
In the end, the long durability and low maintenance of a composite deck help save funds in the long run. Yet, if you have a smaller budget for the project, there are other options to consider.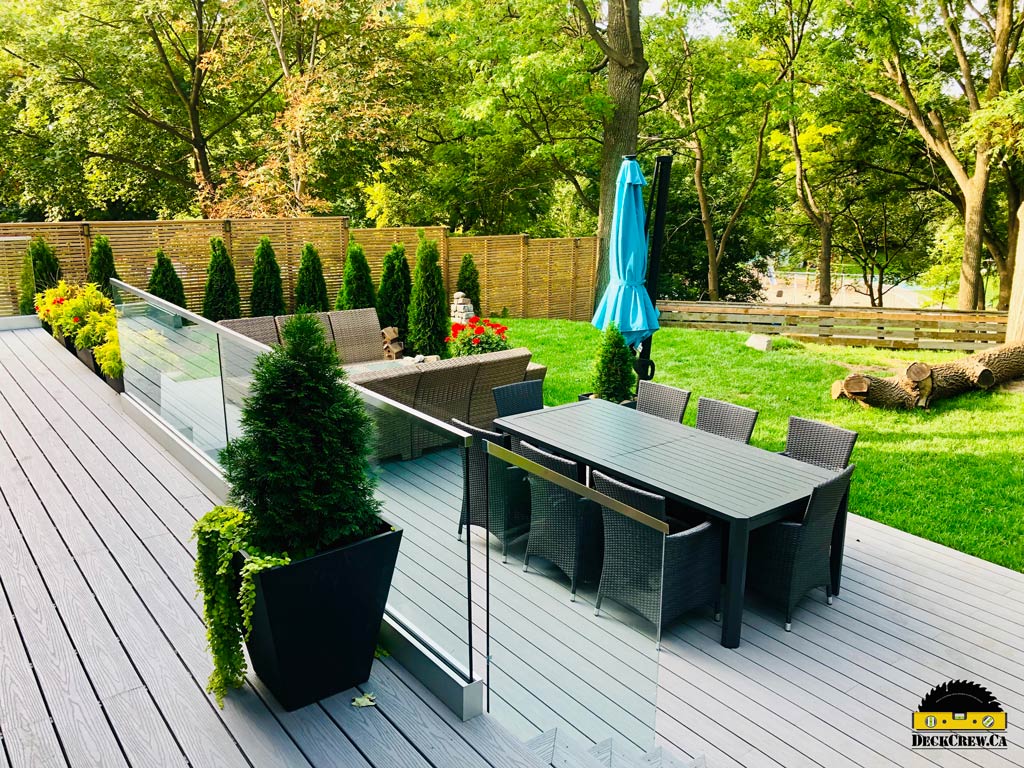 Pro: Composite comes in a variety of styles and colours
There is a wide range of colours and shades when it comes to composite decking. From the most "natural-looking" to untraditionally vivid or dark – the colour palette is diverse.  The capping also creates a nice touch since it gives the board a beautiful matte finish. You can combine different shades of lumber or go for a "wood-like" look. So far even the most creative customers of ours were able to find exactly what they wanted. 
Con: Composite cannot be (easily) re-pained
Composite is not completely organic lumber, so it gets very tricky if needs to be painted. Even though under normal circumstances it doesn't have to be stained or painted, sometimes you just change your mind. In that case, there is much more hassle than just coating it with a layer of paint. Our team suggests picking the colour that fits the overall exterior of the household and trying to avoid experiments.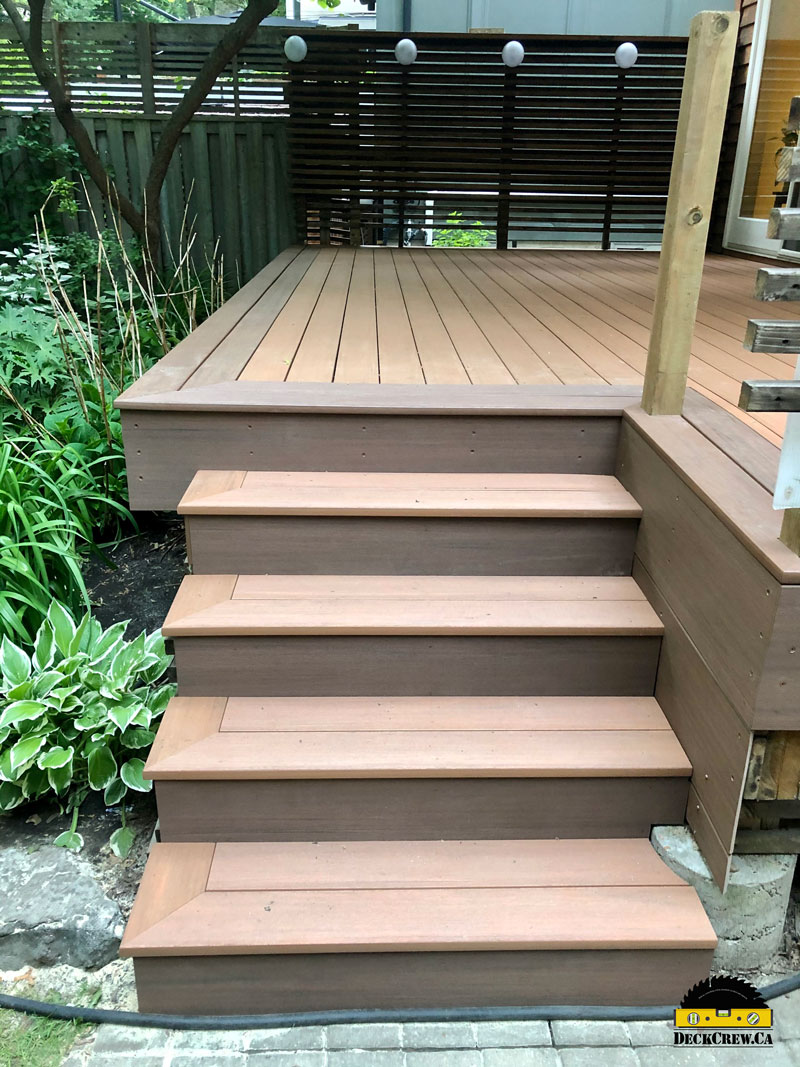 Pro: Composite deck is water resistant 
Water is the number one danger to your deck. It endorses rotting and moulding, which can ruin the material. However, composite decking is created in a way that doesn`t absorb moisture. Manufacturers make sure that the product is wrapped in a polymer capping that protects it from water and prevents rotting and swelling. Deck boards will stay flat and dry despite different weather conditions.
Con: Composite deck tends to fade over time
Let`s be fair, all decks fade over time. It happens due to constant exposure of the surface to the sun. The degree of fading of composite materials depends on the quality of the product, but it will happen even to the most expensive materials on the market. You may consider choosing a bit darker tint on account of expected fading, so it matches your outdoor design. Keep in mind that composite decks cannot be re-pained, and choose the colour considering prospective changes. 
Need Help?
Feel free to ask us any question. If you already know what do you want to have done, try to give us as much information as possible.
Pro: Composite deck is environmentally friendly 
We all agree that environmentally friendly options should be our first choice and a priority when it`s possible. Compared to traditional wood decking, composite is actually a greener alternative. You not only save forests but also use a product that is mostly made of recycled material. Composite decks are manufactured using landfill materials, which don`t require cutting new trees and help utilize reclaimed wood.
Con: Composite deck is hard to repair
Despite the high quality and long durability of composite decks, there is one disadvantage you should remember – composite decking is complicated when it comes to repairs. It cannot be painted or sanded to hide minor damages like stains or scratches. Replacing boards is also a tricky practice, as the colour of new parts may differ due to fading. In addition, complications can occur when dealing with hidden fasteners. 
These are the main advantages and disadvantages of composite decking that you should keep in mind when choosing the material for your project. Don`t hesitate to contact DeckCrew if you have any questions. Our professionals will help you find the best solutions accordingly to your preferences and budget.