Due to drastic changes in our lifestyle in 2021, most people realized that their own house is the safest place for relaxation and entertainment in the next couple of months (years?). So this year, all of the trends of outdoor and indoor designs are focused on making your home not only a place to rest but also a potential spot for work and entertainment. Let's look at what are the most popular choices of deck owners for their backyards in 2021 according to DeckCrew.ca – a premium Toronto deck builder. 
1. Multilevel decks
Multilevel decks are one of the most popular trends of deckbuilding in 2021. Having this kind of decks is an incredibly convenient way to use the background territory. It expands your living space to a maximum, creating more storage, entertainment and decoration opportunities. A multilevel deck allows you to have a garden, a patio and an outdoor kitchen all in one background. This option is perfect for those who need to increase their outdoor living space in conditions of smaller backyards. Having multiple levels of a deck helps avoid using extra square footage by building up instead of building out. However, you can still unleash your creativity and choose different shapes and styles for each level. 
2. Covered decks 
Having a deck is no more for summers only if you have a rooftop. Covered decks let you enjoy nature rain or shine. A rooftop also protects the deck from snow in winter and provides shade for hot summer days. There are plenty of options that will increase the usability of space and add value to your property. If you prefer to have some shade in summer but are not ready to give up all the sunlight, a pergola is a perfect option for you. Get some additional coverings for rain and you are set to enjoy warm days outside. Gazebos, on the other hand, are fully covered constructions, that can serve you as a separated structure on your background. They are incredibly comfortable for outdoor work and exercises, providing some privacy and covered storage space.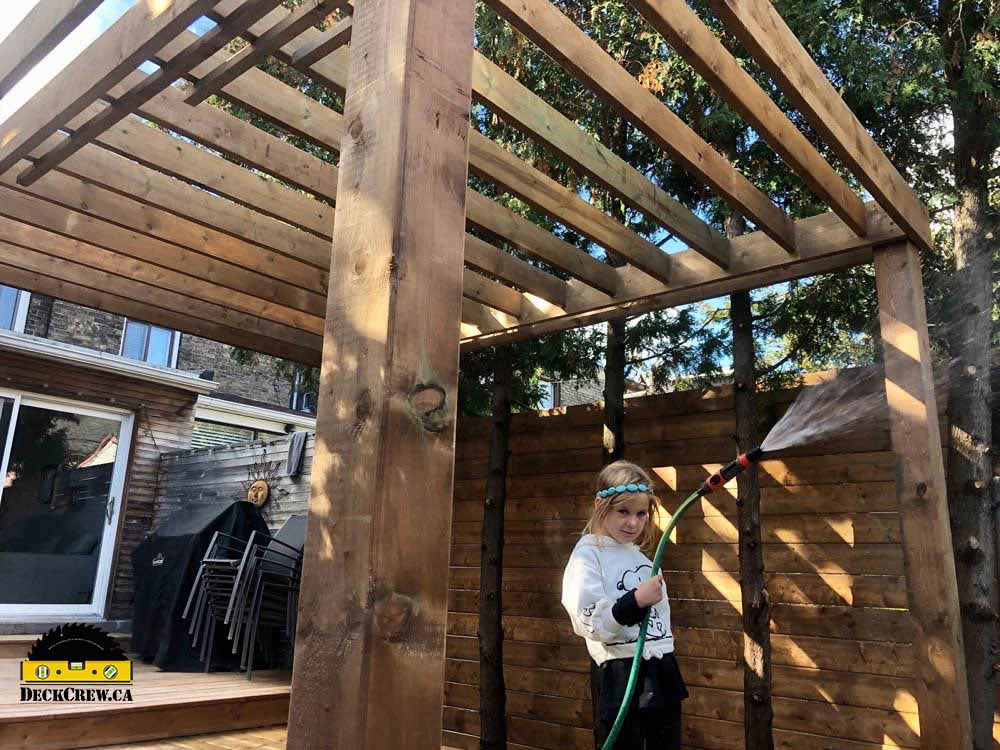 Need Help?
Feel free to ask us any question. If you already know what do you want to have done, try to give us as much information as possible.
3. Composite decks
Composite decks are easier to maintain than natural wood ones. You can save the time that you would spend on painting and staining, and still enjoy the variety of colours that will satisfy your preferences. One of the modern trends of composite decking is using eco-friendly materials. Working with companies that apply recycled materials in production helps you both save trees and give a backyard new life. Don`t forget that the technologies are improving every day, so manufacturers constantly evolve new approaches in making composite boards more durable, and even mold- and scratch-resistant.  
4. Lighting on decks
Creating a beautiful ambiance is another common trend in deck building in 2021. Lighting is a magical way to create a unique atmosphere in your outdoor living space, highlight the beauty of nature and set a mood for relaxation. Take spotlights as unusual design elements and start choosing among various colours and sizes. Step lights can look especially impressive on your deck – installed behind steps, they create a mysterious and romantic feeling. And don`t forget about safety – having lights on your backyard prevents you and your loved ones from falling and getting injured during afternoon hangouts.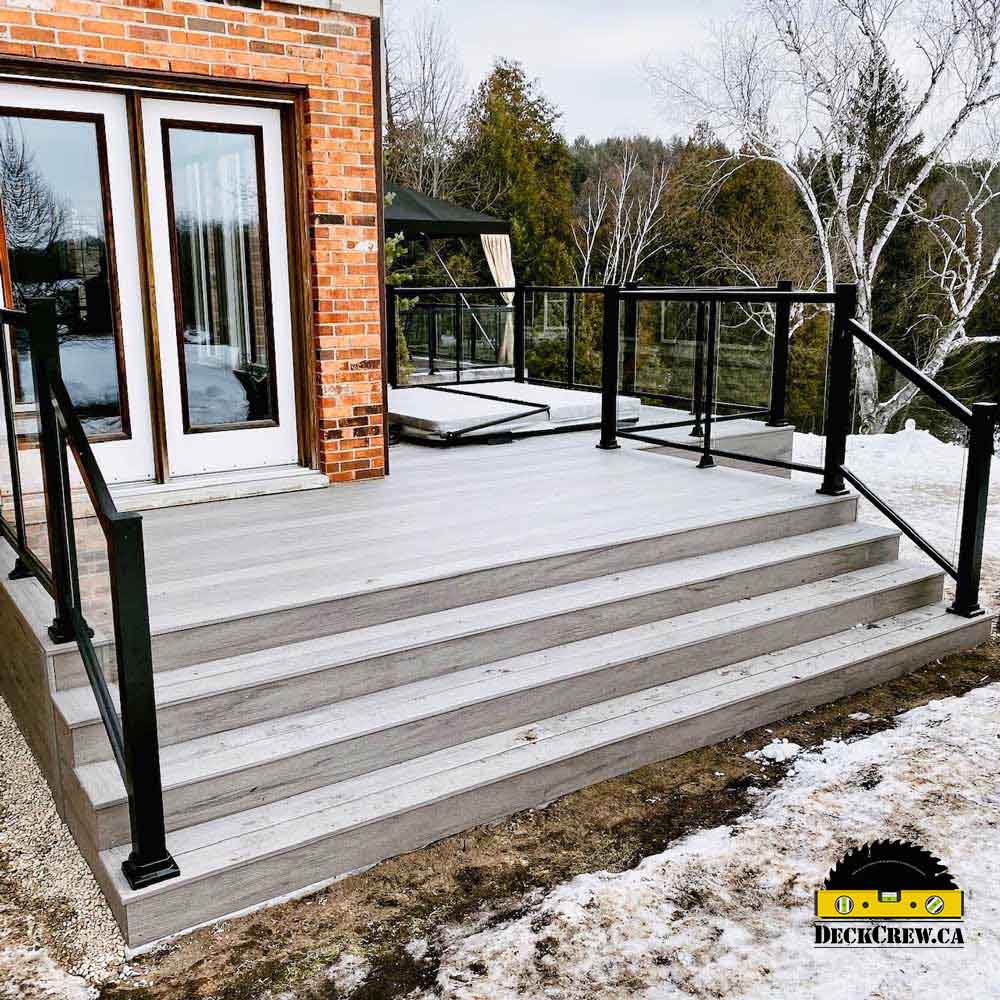 5. Glass railings 
Glass railing is a great tool to create an extraordinary outdoor experience. If before people used glass mostly as a material for windows and doors, today glass railings are definitely one of the most stylish accessories of the property. The most obvious advantage is full access to surrounding views. Glass railings are strong enough to make a deck safe, and don`t stop you from witnessing nature around, which can be a problem with the wooden or aluminum ones. You also don`t have to worry about staining or possible cracks of glass. Most glass railings are made from tempered glass, which makes them incredibly strong, low-maintenance and temperature-resistant. 
After diving into the trends of deck building in 2021, you can decide what ideas you find the most interesting and intriguing. Remember, your options are unlimited – from traditional classics to modern innovations. In the end, the most significant trend is the one that makes you most comfortable and happy. DeckCrew.ca is always here to help you implement your dreams.